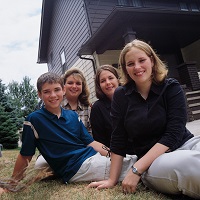 Thinking about life insurance isn't a lot of fun. But it can give you tremendous peace of mind to know that the people and things you care about will be protected even if something happens to you. Here are the top five reasons you need life insurance: for yourself, for your family, and for their future.
1.  For Your Kids: Your kids mean the world to you. What's more important in the world than giving them the best possible life and the best possible future—even if something happens to you? Having life insurance can mean that your family can afford to stay in the same house, continue to have good food and new clothes when they need them, and get a quality education. Without life insurance, all of that can be thrown into doubt.
2.  For Your Spouse: Even if you don't have kids, life insurance can make all the difference in the world to a widowed spouse. Maybe it means they can continue paying the mortgage, or that he or she can have the retirement you two always dreamed about—even without your income supporting their savings.
3.  For Your Future: Let's say you don't have kids, or they're grown and gone. Do you still need life insurance? Yes—you can use it for yourself. Many life insurance policies have a cash value and even make money in the form of interest. This money can be used even while you're alive for a variety of reasons from supplementing your retirement income to paying medical bills.
4.  For Your Heirs: We all have people in our lives who we'd like to give the world to. Maybe it's the niece who always dreamed of starting her own business, or your son who wants to get that Master's degree. A life insurance policy can be a posthumous gift to your loved ones to enable them to live the life they always wanted.
5.  For Your Funeral: Funerals can be very expensive, from funeral plots or cremation costs to caskets and flowers. The last thing you want is to be a burden on your family after you're gone. A life insurance policy can make sure the expenses of a funeral won't be coming out of your loved ones' pockets.
Life insurance is a critical part of protecting your family and your legacy. Let us help you figure out which policies are right for you, your family, and your circumstances. Call us today, and let's talk about how to give you peace of mind for today and tomorrow.