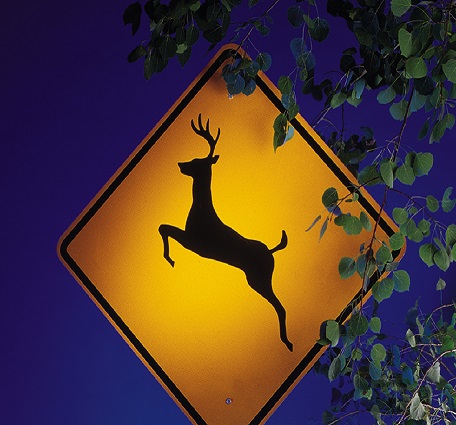 There's more than one way to bag a buck – or a doe.  For motorists, that's the costly and life threatening reality of driving on America's roadways. Erie Insurance is one of the few insurance carriers that tracks deer collision claims and uses the information to help policyholders.  "We've been reviewing data since 1999, focusing on how to reduce collisions and keep people safe," says Darrin Birtciel, a rate analyst at Erie Insurance.  "We look at frequency, location, severity and total costs."
According to claims information collected and analyzed by Erie Insurance, one in every 100 drivers nationally is likely to have a collision with a deer.  The Insurance Institute for Highway Safety estimates that deer-vehicle crashes rack up $1.1 billion in property damages, tens of thousands of injuries, and more than 200 deaths every year.  "Reducing the number of collisions not only prevents injuries and saves lives, it also helps control the cost of insurance," says Birtciel.
For the past six years Erie Insurance has worked to buck the trend of deer/vehicle collisions, with aggressive efforts to warn policyholders and the general public about the hazard, how to try to avoid such encounters and when and where they are most likely to occur.   The company provides tips directly to its customers through its policyholder magazine, and also shares that information nationally through press releases and alliances with a number of trade and government associations.  You can find an interesting presentation at: http://auto.erieinsurance.com/ohdeer.html  The company has also produced a public service announcement that is made available to the media and posted on its web site.  In addition, ERIE's network of independent agents helps spread the safe driving message with their own communications to policyholders and their local communities. Erie Insurance is represented locally by Yetter Insurance Agency, Inc.
Based on a continued downward trend in deer/vehicle claims reported by Erie Insurance policyholders, the awareness campaign is working. The company's latest report shows ERIE's deer claim frequency declined for the fourth straight year and now stands at its lowest level in seven years.
In the past year, ERIE saw a 6% decline in deer claim frequency.  This is the fourth consecutive year that deer claim frequency declined, and the second straight year that the actual number of deer claims declined.  ERIE's deer claim frequency has improved 23% during the past four years. In ERIE's operating states for 2005, there were 10 deer claims for every 1000 vehicles the company insured.
Still, deer pose a serious and ever-present threat to drivers. ERIE's paid losses from deer collision claims totaled $54.6 million in the company's marketing territory for 2005, and that was nearly $2 million lower than in 2004. The average cost of a deer claim increased by 4% to $2,200. However, Erie Insurance saw a 9% company-wide decline in the number of deer claims during the peak months of October through December.
Birtciel also notes that some routes might make drivers more prone to chance meetings with crossing deer.  "Everyone should be alert for deer, but those who have already had a deer claim should be especially alert.  There's probably a good chance those drivers routinely travel on roads that are frequent crossing points for deer."
Car-deer crashes are unfortunately inevitable, but Erie Insurance is proactive in encouraging its policyholders and others in the community to use extra caution. Experts agree defensive driving is the best way to avoid crashes with animals. "Keep your eyes on the road, doing a visual sweep for deer during October, November and December, when most deer collisions occur," advises Matt Myers, who heads ERIE's claims division.  "If you're going 60 mph, you can cover a lot of ground in just a few seconds – 30 yards per second or the length of a football field in the time it takes to change a CD or reach for your travel mug."
Erie Insurance urges motorists to consider the following facts about deer-related collisions
• Deer aren't just found on rural roads near wooded areas, many deer crashes occur on busy highways near cities.
• Deer are unpredictable, especially when faced with glaring headlights, blowing horns and fast-moving vehicles. They often dart into traffic.
• Deer often move in groups. If you see one, there are likely more in the vicinity.
To help avoid a collision, drivers should consider the following driving tips and precautionary measures
• Stay alert, awake and sober. Always wear your seatbelt and drive at a safe, sensible speed for conditions. Deliberately watch for deer, particularly when driving during peak collision times.
• Highest-risk periods are from sunset to midnight and the hours shortly before and after sunrise.
• When driving at night, use high-beam headlights when there is no opposing traffic. The high beams will illuminate the eyes of deer on or near a roadway. Watch for the reflection of deer eyes and for deer silhouettes on the shoulder of the road. High-beam headlights will not necessarily frighten a deer, so do not rely on the high beams to deter deer, but rather rely on the lights to better illuminate the animal.
• Do not rely exclusively on devices such as deer whistles, deer fences and reflectors to deter deer.
• Deer are often unpredictable, especially when faced with glaring headlights, blowing horns and fast-moving vehicles. Sometimes they stop in the middle of the road when crossing or cross quickly and come back. Sometimes they move toward an approaching vehicle. Assume nothing, slow down and blow your horn to urge the deer to leave the road. If the deer stays on the road, stop, put on your hazard lights and wait for the deer to leave the roadway; do not try to go around the deer while it is on the road.
• Deer frequently travel in groups and in single file. If you see one deer on or near the road, expect that others may follow.
• Brake firmly when you notice a deer in or near your path, but stay in your lane. Many serious crashes occur when drivers swerve to avoid a deer and hit another vehicle or lose control of their cars.
• If you do strike a deer, and are uncertain whether or not the deer is dead, then keep your distance, as this is an injured, wild animal with sharp hooves that can inflict injuries.
• If the deer is blocking the roadway and poses a danger to other motorists, you should report the incident to the Game Commission or a local law enforcement agency.
According to A.M. Best Company, Erie Insurance Group, based in Erie, Pennsylvania, is the 16th largest automobile insurer in the United States based on direct premiums written and the 18th largest property/casualty insurer in the United States based on total lines net premium written. The Group, rated A+ (Superior) by A.M. Best Company, has over four million policies in force and operates in 11 states and the District of Columbia.  To learn more, visit www.yetterins.com